Story by Luisa Sandoval
Filipinos love to eat. Whether it's a birthday celebration or a simple get-together, they always find ways to put food on the table, may it be grandiose or not.
The rich food culture of the Philippines enables its people to explore different opportunities one can obtain through food; for instance, Filipinos found a way to make a living out of cooking and selling food.
Often, these locally made food products offered by Filipinos sell significantly less compared to known big brands. Hence, the local food industry offers not only affordable homemade products but also great quality food.
Brandless peanut butter is one of the local products that prove how something nameless can taste even better than well-known imported products sold in grocery stores. Perhaps in this case, mas masarap talaga kapag walang label.
Whether thinly spread on a toasted piece of loaf, sandwiched between freshly baked pandesal or simply eaten through spoonfuls, brandless peanut butter has become all too familiar to most of our taste buds.
Although peanut butter's origin traces back to the Americans, it is undeniable that it has made a name of its own in the Philippines.
The mass manufacturing of the spread across 12 regions of the country has not only made the product accessible to more Filipino households, but it has also provided a livelihood to small local businesses. And in Nueva Ecija, I am fortunate enough to have met two local peanut butter makers whose experience speaks truth for the latter.
A family favorite
At a cozy home in Aduas, Cabanatuan City lives 55-year-old Nanay Viloria or 'Nanay Villy,' as her family likes to call her.
Cooking has always been her hobby, but she didn't think that her interest in peanut butter could be something profitable.
"Kaya ako [nag-aral kung paano magluto] niyan kasi para sa mga anak ko. Alam kong safe kasi [kung] ako ang gagawa," she said.
All four of Nanay Villy's children love eating peanut butter, including her husband who would even mix it with hot rice to eat as a snack. That is why after attending a seminar on peanut butter making with her sister a few years ago, she decided to continue making it for her family.
"Mahilig din ako [gumawa] ng mga puto, tsaka 'yung mga palabok. Pero peanut butter talaga ang una kong pinagkakitaan mula noong napunta ako dito sa Aduas," Nanay Villy added.
Nanay Villy's typical day involves waking up at 4 a.m. to buy fresh ingredients from the market to prepare for a new batch of orders.
"Mga alas siyete 'pag nayari ko na [mamalengke] saka ko pa lang ibubusa (a cooking process where the peanuts are sautéed in a hot pan to release more flavor) 'yung mani. Tapos palalamigin pa 'yon … [at] saka mo pa lang ipapagiling," Nanay Villy said.
In over 30 years of making the product, she has perfected the makings of a consistently creamy spread, which has set her product apart from competitors.
"Kaya lang naman ako nabibilhan kaysa sa iba kasi tinatanong nila bakit may matigas sa ilalim 'yung [peanut butter ng] ibang pinagbibilhan nila. Syempre ipaliliwanag ko na kasi 'yung iba, hindi puro. May harina," she explained.
Despite the absence of a product label, the pure mixture of her peanut butter became her signature branding. The large demand for the spread led her to produce up to 30 jars every day, from her usual 13 to 16 count when she was just starting.
A single parent to four
Just a half hour drive from Aduas is Barangay Valle Cruz, where another peanut butter maker like Nanay Villy resides.
At 59, Carmela Manalili or 'Nanay Mila' appears to be a simple homemaker who takes care of her grandchildren. However, behind her tied up hair, lanky figure and wrinkled skin lies a single mother who is both father and mother to her four children.
"Naging challenge sa akin na 'yung mga anak ko mabubuhay ko, na kaya ko sila buhayin on my own," Nanay Mila said.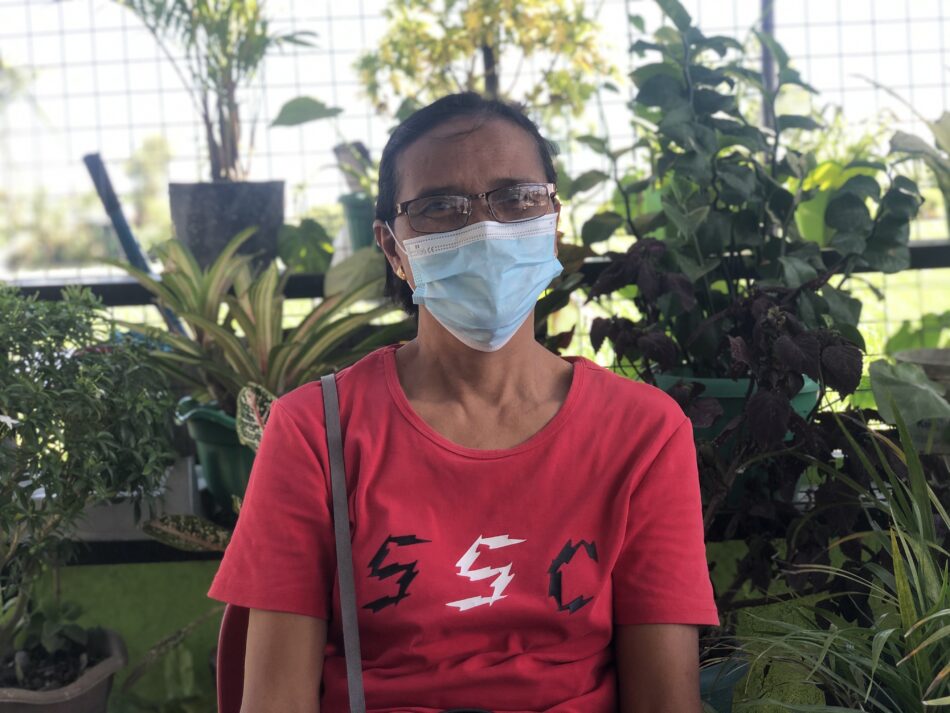 While struggling to raise four children on her own, a minister at their local church influenced and taught her how to make homemade peanut butter spreads.
"Sinabi niya sa akin 'Anak, baka gusto mo gumawa ng peanut butter?' Edi ako naman, syempre lahat ng pagkakakitaan 'yon ang [gagawin] ko. Tapos gumawa ako, binigay sa akin ingredients, ayon maigi naman. Nakakasurvive naman," Nanay Mila told.
In order to provide food for her kids, Nanay Mila had to juggle various jobs at once; this included making and selling homemade peanut butter spreads.
"Hindi pwedeng peanut butter lang ang aasahan ko, kailangan asahan ko lahat. Nag peanut ako, nangulot ng buhok, nagmamanicure ako, nag-labandera … sa awa ng Diyos naka survive," Nanay Mila said.
A recipe of her own
In her 22 years of making peanut butter spreads, Nanay Mila met many people like her who make and sell these spreads. But for her, the secret to why her products stand out, is her attention to detail in making them.
"Maselan [kasi] ako pagdating sa pagkain [kaya] iniingatan ko 'yon. Once na magkaroon ng pintas 'yung peanut ko, baka masira ako sa customer," Nanay Mila said.
Once the peanuts are fried, she goes to the market and grinds the peanuts herself to ensure that the quality of the spreads she makes are up to her standards.
"Huhugasan nila yun … wala silang gagawin [kundi] huhugasan lang nila. Kapag natuyo na, 'pag pinaandar na ang gilingan, itatapat ko na yung timba ko at ako na ang mag-gigiling [ng mani]," Nanay Mila explained.
Her attention to detail did not fail her for it gained her many loyal customers over time. Her biggest order to date amounted to 25 kilos of peanut butter or about 75 large jars of the spread.
However, the boom of both Nanay Villy and Nanay Mila's peanut butter business did not last long. As COVID-19 plagued the country, they saw their customers gradually lessen along with the number of jars they filled to the brim daily.
The pandemic's toll
The pandemic left a crippling effect on both Nanay Villy's and Nanay Mila's peanut butter business.
From cooking at least five kilos of peanut butter every day, Nanay Villy now only makes made-to-order spreads. Large orders, which used to earn her P3,600 per bundle, have significantly gone down now that she only makes peanut butter occasionally.
"Noong [nagkaroon ng] pandemic humina talaga [ang kita]. Dati kasi marami akong taga-tinda. Nag-iikot-ikot sila, pupunta sila sa kung saan ang lugar nila. Eh ngayon wala, bawal na," Nanay Villy said.
The sudden increase in the price of ingredients and materials was another added burden for Nanay Villy.
"Ngayon ang taas ng presyo ng mani kaya kay hirap [presyohan] kung magkano ibebenta. Kapag gano'n, kaunting-kaunti na lang ang kikitain mo," she lamented.
Nanay Mila echoes the same struggles as she now only makes five kilos of peanut butter at most.
"Talagang humina [ang pagbenta ko ng peanut butter]. Dati 'pag gumawa ako ng 10 kilos, marami talagang kumukuha. Ngayon [wala masyado] kasi mahirap ang pera," Nanay Mila said. "Mahirap ang sitwasyon ngayon. Hindi natin malaan, sana mayari na."
Inching closer to retirement, Nanay Mila falls more vulnerable to getting infected with COVID-19, that is why her children decided it was best if she stayed at home.
For Nanay Mila, the pandemic not only imposed a challenge to her small business but also affected the livelihoods of her four children.
"Ang anak ko nagta-tricycle 'yon. Tapos 'yung isa, magmula noong nagka pandemic, umuwi siya galing Manila. Natiyempuhan na nag lockdown, hindi na nakabalik. Buti ang anak kong teacher, siya lang ang sumusuporta noon sa amin [at] 'yung asawa ng bunso kong anak," Nanay Mila said.
More challenges to face
According to Nanay Villy and Nanay Mila, in the decades that they have been making peanut butter spreads, it was only during the pandemic that their small business did not sell well.
Worse, their experience does not only speak for itself.
Nanay Villy's and Nanay Mila's businesses are just a portion of the thousands of strong micro, small and medium enterprises (MSMEs) that were badly affected by the pandemic. Nanay Villy's business belongs to the 23% of MSMEs that have temporarily closed down.
As supermarkets continue to stack shelves with well-known foreign peanut butter brands, Filipinos also continue to patronize them, overshadowing local manufacturers such as Nanay Villy and Nanay Mila.
While the Philippines has a law that aims to support local businesses, struggles like that of Nanay Villy's and Nanay Mila's only show that the help being given is not enough, especially amid the pandemic.
Truth be told, whether the country suffers through a pandemic or not, local vendors like Nanay Villy and Nanay Mila can't outdo the sales of imported, branded peanut butter spreads sold by retail giants.
Unless the government prioritizes building the country's local food industry, foreign brands will always overshadow local ones, even if the latter provides better quality for a cheaper price.
As the country continues to import peanut butter abroad, its economy continues to be import-dependent and export-oriented. This, in turn, weakens local industries and leaves little support for local peanut butter businesses to thrive.
While it is true for many that in terms of peanut butter spreads, mas masarap talaga kapag walang label, it is actually the opposite for the people who cook and grind these delicious spreads. Perhaps, hindi masarap kapag walang label — especially for local businesses who continue to get little support from the state.