Since the campaign period for the May 9 national elections began on Feb. 8, candidates have raced intensely to court as many voters possible. Among the aspirants' trusted tools is personality politics, which teaches them to employ entertainers, celebrities and invasive campaigning to get their messages across.
As the competition got tighter, candidates made themselves known not just in public spaces but in people's homes and private spaces as well, with everyday objects turning into election material. And the pandemic brings a new layer to the conversation, as candidates have capitalized on the healthcare crisis to spotlight their election agenda.
Before the campaign period closed yesterday, May 7, we asked our readers to send photos of campaign objects and asked for their thoughts on this electioneering tactic. Here's what they said.
The 'ayuda'
On January, one of our Quezon City readers sent an image of food assistance or 'ayuda,' given by their barangay officials. Printed on a juice bottle was the name and image of District 5 councilor candidate Maureen Botones.
Another reader sent a photo of a coffee sachet featuring the photo of presidential candidate Ferdinand Marcos Jr. These sachets were reportedly part of relief goods sent to victims of Typhoon Maring in Northern Luzon.
"The funny part about the coffee was because the Marcoses are thieves, the coffee sachet is not full as it was robbed," he added, referencing the Marcos family' ill-gotten wealth.
The practice of handing out food during elections is not uncommon in local governments. A study by South East Asia Research found that 35.3% of low-income respondents receive food, rice or groceries from candidates, while 41.1% know someone who has.
For both cases, respondents took the offer over 90% of the time.
The current connotation of the term 'ayuda' is rooted on the government's social amelioration program, which offered financial assistance for Filipinos who are affected by the COVID-19 pandemic.
But now, the term "ayuda" has come to mean any form of help, be it food or other material assistance.
"Medyo nakaka-turn off siya," said one of our readers. "Kasi nagugutom 'yung tao — they're hungry na nga, tapos bibigay ka pa [ng ayuda]. Dapat hindi na kinakampanya 'yan, bigay na lang dapat kasi nasa pandemya tayo."
Healthcare
The elections on May 9 is in the backdrop of a global pandemic, which has taken the lives of over 60,000 Filipinos. The inflation rate zooms to 4.9% in April 2022 — the fastest in over three years.
Readers say the crossroads of the health crisis and the election has pushed candidates to move their campaign material to healthcare.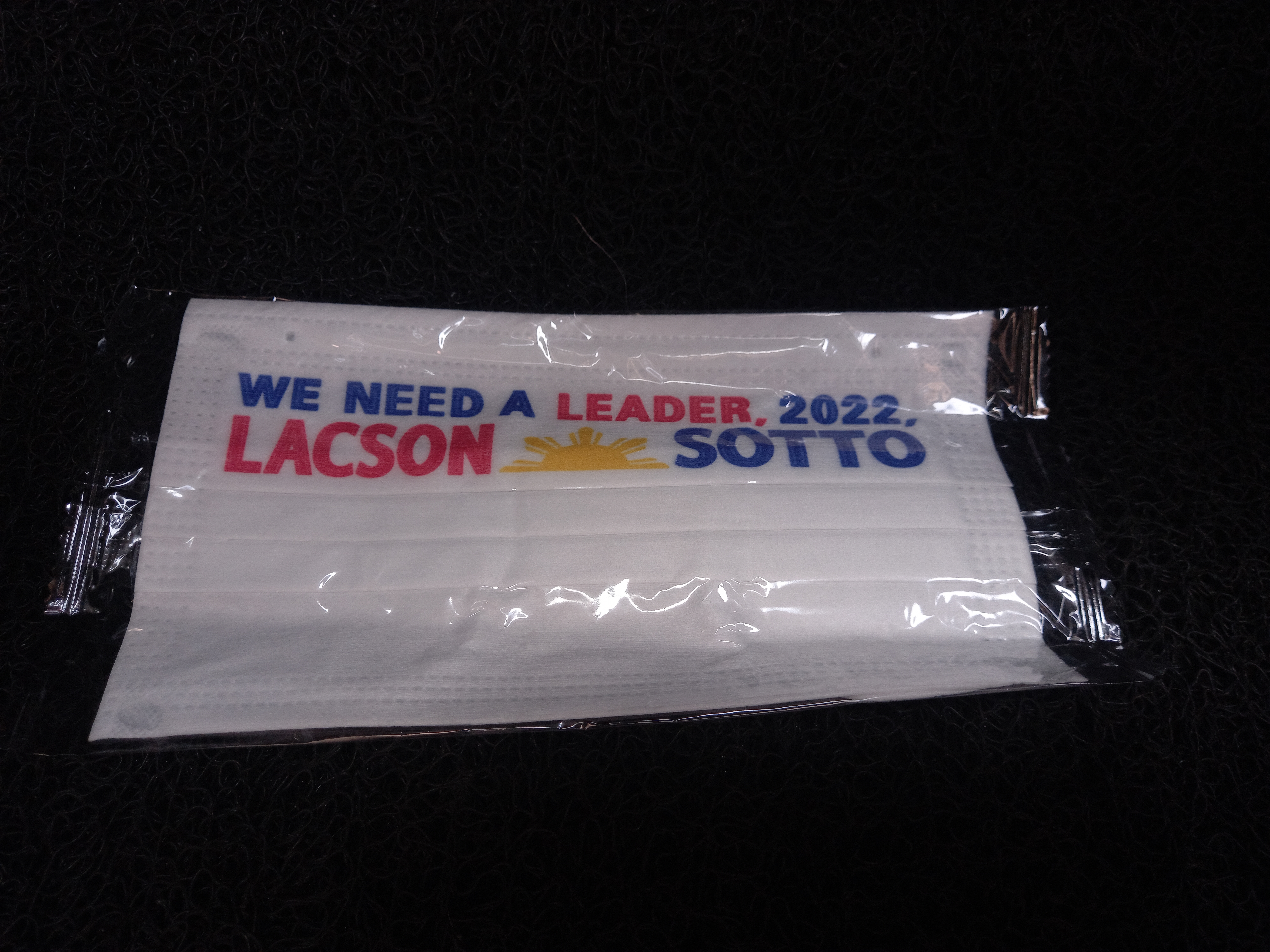 A reader submitted a photo of a facemask that featured Sen. Panfilo Lacson and Sen. Vicente "Tito" Sotto III, who are gunning for presidency and vice presidency, respectively. 
Candidates themselves are seen sporting their names and faces on face masks during public events.
Readers note that this is a wise move as the government require all Filipinos to wear face masks outside.
For some, like Quezon City councilor candidate Patrick Vargas, has found campaign material on medicine tablets. In his case, it was a pack of ascorbic acid tablets with his tagline "Pamilya Malusog."
While campaign moves come in broad strokes through traditional media or the internet, it also comes in the minute details such as the objects that Filipinos perceive daily.
Cards and tarpaulins
Kokoy, 24, told TNP his experience of using a "voter's ID" which contained the tagline of QC councilor candidate Marvin Rillo. Kokoy, a resident of Brgy. Teacher's Village East, said he was handed the card during the 2016 elections.
"Since first time ko mag-vote [noong] 2019, nagulat ako na ganun pala," Kokoy said. "Nat-turn off ako kasi sawa na tayo sa ganitong tradisyon ng pamumulitika. Gusto [naman] natin ng pagbabago."
Another QC resident shared that he received a card containing his name and district address. Atop was the name of congress candidate Arjo Ayaude. The same card featured a barcode, which led to a failed link.
The sender wondered what the purpose of the card was.
"Nakakatakot nga eh," he said. "Ang weird kasi, paano nila nakuha 'yung pangalan ko at address? At saan nila nakuha 'yung pera para ilagay 'yung pangalan ko rito?"
While the campaign period for national candidates began on Feb. 8, local aspirants only began campaigning on March 25.
But even months prior to this opening, campaign material such as tarpaulins have already been on-display in public spaces.
Premature campaigning or political activities outside the campaign period are considered "unlawful" under the Omnibus Election Code. But the Center for Media Freedom and Responsibility raised how this code overlooks a loophole, which allows candidates to evade the charges of premature campaigning.
Republic Act 8436 oversees the country's election activities. In Section 15, a person who files for candidacy "shall only be considered a candidate at the start of the campaign period."
But its amended version, RA 9369, states that "unlawful acts or omissions applicable to a candidate shall take effect only upon the start of the … campaign period," allowing politicians to evade charges of premature campaigning.
Maj, 22, sent as images of a political party vying for seats in San Mateo, Rizal.
Cases like this also crop up for national candidates, Maj said. She also sent photos of tarpaulins expressing support for the presidency of Sen. Panfilo Lacson and his running mate Vicente Sotto III. She also spotted tarpaulins supporting the campaign of Sen. Christopher Lawrence Go in Pasig City.

"Napaisip ako sa legality ng mga 'to—if ligal bang maglagay sa mga tulay ng highway at kung campaign period na ba talaga," she said. "I'd like to think of it as if they're spamming people [with the tarpaulins]," she said. "'Pag mas nakikita mo, mas tatatak sayo."

READ: [OPINION] The war of tarps: How the government's ideology war is visual, too
A February 2022 study by researchers from the Ateneo de Manila University found that the electoral process is a race for name recall, heightened by vote buying.
"Siguro kapag botante ka tapos 'di ka pa decided or 'di ka nag-research sa kandidato, kapag boboto ka na, ang isusulat mo yung name na nar-recall mo," Kokoy said.
As Filipinos clamor for basic commodities amid the COVID-19 pandemic, some candidates took it as an opportunity to campaign themselves for the upcoming elections.
Yet, the interviewees said this type of campaigning is not new.
When asked about whether the "invasive" campaigning convinced her as a voter, Maj said "definitely they failed naman to convince me as a voter. No one seems to mind din naman and these candidates could easily get away with it. Nakakatakot."