Story by Dominique Flores
Thirty-five years since the 1986 People Power movement, Filipinos look at black and white photographs of countless protests, remembering the story of a country that victoriously overthrew an authoritarian regime responsible for snatching the people's freedom.
Photojournalist and activist Romeo Mariano was one of the people fighting behind viewfinders and clicking shutter buttons that preserved these momentous years of struggle in snapshots. Now, he tells his own story.
Rummaging through boxes of film negatives in search of photos he captured during several protests, dispersals, marches and the People Power uprising in the 1980s, 60-year-old Mariano once again brings out his film scanner to digitize and remember the historical events he lived through.
"Kung gusto ko maalala ang mga nangyari, binabalik-balikan ko," he says. "Ini-iscan ko 'yung mga negatives. [Ang] dami kong files, siguro mga two boxes panay negatives 'yun."
Exposing realities
Before becoming a photojournalist, Mariano was a student activist who joined the Student Catholic Action and Student Christian Movement of the Philippines during his high school and college years.
Bearing witness to the warrantless arrests, cold-blooded murders and sudden disappearances of activists and journalists under late dictator Ferdinand Marcos's rule, he couldn't help but join the movement in hopes of changing the oppressive system.
"Hindi naman pwede na hintayin natin [ang pagbabago]. Tayo na, ang mamamayan na ang magkaroon ng inisyatiba na magsigasig sa paglaban sa kalsada," he asserts.
Looking back, Mariano never thought of pursuing photography for the rest of his life. It was only when he and his college friends played with a camera and eagerly discussed techniques did his interest in the craft grow.
Amid violent political unrest, he knew he had to utilize his newfound passion to expose this reality to the public and the generations to come.
"Gagamitin namin (photojournalists) ang pictures para magbukas ng mata ng mga mamamayan [at] ipakita sa kanila ang images na makakatulong sa kanilang pagkilos," he says.
Besides Mariano, other photojournalists who covered the events during the Marcos ouster still have their photos up in books, news agencies and the internet.
Among them is Kim Komenich, an American photojournalist who had no idea how the People Power uprising would change his life.
"This is a really historical thing, and it's so iconic," Komenich says. "I had that several times during People Power, where things were just so theatrical [but] you know is real."
What began as an assignment to document the first death anniversary of then-Senator Benigno "Ninoy" Aquino Sr. soon began his chronicling of the Filipinos' struggle for democracy in the mid-eighties.
On his arrival with reporter Phil Bronstein, he recalls witnessing over a million people flocking to the streets, crying for justice after the assassination of Ninoy in 1983. But that wasn't the only thing that struck him in those days.
"Arriving in Manila, I got a first look at poverty … And as a photographer, I had always admired photographers who went around the world and pointed out the things that needed to be fixed," Komenich says.
Mariano followed the same belief in his craft. He was a member of the photographers club Photobank, a repository of images in the 1980s for news agencies and magazine publishers such as the Associated Press and Midweek.
"Binuo namin ang Photobank [bilang isang] cause-oriented organization. Ang objective nito ay to document ang important na nangyayari sa society like people's protests, mass movement [at] mass actions," Mariano says.
However, due to lack of funds, Photobank disbanded in 1987, Mariano says.
Despite ubiquitous dangers, Mariano persisted with his desire to be in solidarity with the Filipino people. He faced several difficulties in documenting the resistance's efforts – the Lakbayan in 1984, noise barrages and protests to oust Marcos – but he kept on with his duties, both as an activist and a photojournalist.
"'Pag nagbatuhan na, mangangamba ka na baka mapalo ka o [may] mabato [sa'yo], syempre nasa gitna ka [para kuhanan ng litrato]," Mariano recalls. "Talagang [sa] rally, dispersal, may nasaktan."
For him, capturing photos of the people's unwavering support for one another and their struggle outweighs the risks he had to endure.
"Doon makikita 'yung hirap ng manggagawa, magsasaka na kasama ko [at] estudyante. Talagang dedikado [sila] sa kanilang [pagkilos at] 'yung commitment nila na labanan ang ganitong sistema," he adds.
Since then, Mariano never stopped walking with the masses, immortalizing significant fractions of time with one click on his camera.
Capturing the uprising
On Feb. 22, 1986, Filipinos began marching the streets of Epifanio de los Santos Avenue (EDSA). Coming from different organizations, formations and even churches, people were united in their call to oust a dictator and reclaim their long-deserved freedom.
Among Komenich's first photos during the four-day uprising is the iconic photo of Catholic nuns attempting to convince military soldiers to join their movement.
"You can see what the nuns have brought, [giving] crackers for the soldiers. The idea was to win them over and just say 'You're one of us. What are you doing? You're shooting your [fellow] Filipinos,'" he says.
Mariano, on the other hand, couldn't forget how the Philippine Constabulary and Marcos loyalists stood their ground to protect the dictator's throne in Malacañang.
"Hinarang ang mga tangke sa may Ortigas Avenue kasi papasok 'yung Marcos loyalists para bombahin 'yung Krame at 'yung Camp Aguinaldo. Nagkaroon ng malaking tensyon doon. May isang-dalawang araw na talagang naggirian," he recalls.
With each day on a different part of EDSA, it was unavoidable for photojournalists to get in between flying bullets or rocks coming from Marcos loyalists.
In the middle of an intersection across the Maharlika Broadcasting System (Channel 4), now known as People's Television Network, Komenich remembers helping a wounded civilian while capturing how supporters of former President Corazon "Cory" Aquino seized control of the network.
"The guy was in the police kiosk and that's where he got shot, so I had to get him out. That was the only time I ever got caught in the middle of a four-way gunfight," Komenich recalls.
Amid all the chaos, it was as if hope was regained in that moment, both Mariano and Komenich say.
"What I saw in the street was just people feeling like, 'Hey, we can do this,'" Komenich says.
"Parang 'Uy, ito na siguro 'yung panahon na magbabago na ang ating kalagayan at society,'" Mariano adds.
Remembrance
Among those reminiscing the 1986 uprising is activist Karen Tañada. Seeing photos of her former mass organization, Kapulungan ng mga Sandigan ng Pilipinas (KASAPI), she remembers the relief she felt upon witnessing the result of a decades-long resistance.
"By the time [people] got to the palace, the gates had been closed after an initial rampage of eager crowds. I [laid] on the sidewalk outside the Malacañang fence on my malong, staring at the stars and feeling the immensity of freedom until I fell asleep," she recalls.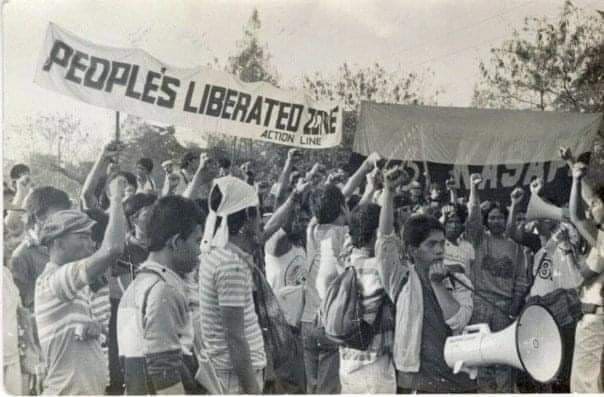 Tañada shares how she and other KASAPI members held a corner along Santolan Road for four days before the Marcoses exiled in Guam and Hawaii, helping persons with disabilities who wanted to participate in the movement. It's a memory even the cruelty of age couldn't take away.
"There were some moments na sinasabing may danger, there was a time na may notification that groups of tanks coming from white plains o ganu'n na area. We would be preparing [to protect ourselves from] tear gas, 'yung mga cloth to cover our noses and mouth," Tañada adds.
With already blurry memories of the '70s and '80s, scanning through books with photos from this period undoubtedly helped her recall the struggles she endured ? especially the four years she hid in different convents for her safety.
Tañada was nearly caught by the police in her brief stay at a relative's compound. She says she only survived because her grand aunt insisted that no one was living in the compound she hid in.
"I was hiding behind a suitcase. I was just praying that if ever they enter, they will just peek and not search. But I heard the next door, closets were banging and I realized they were searching. I could feel my cheeks trembling," she says.
The rise and fall of the Marcos regime brought stories of grief, fear, bravery and strength. With photos of these stories, Komenich believes that the role of mass movements is already cemented in the generations to come ? as it is now.
Echoing calls
Although the People Power movement toppled a dictatorship, remnants of greed, abuse and corruption still infest the administrations that came after.
"Hindi pa rin nagbabago ang mga eksena simula noong panahon ni Marcos hanggang ngayon. Nakikita mo pa rin sa materyal at pisikal na litrato," Mariano says. "Nandoon pa rin 'yung kahirapan; makikita mo marami pa ring walang trabaho, homeless, mga demolisyon, tapos 'yung mga magsasaka [ay] nakikibaka pa rin para sa tunay na land reform."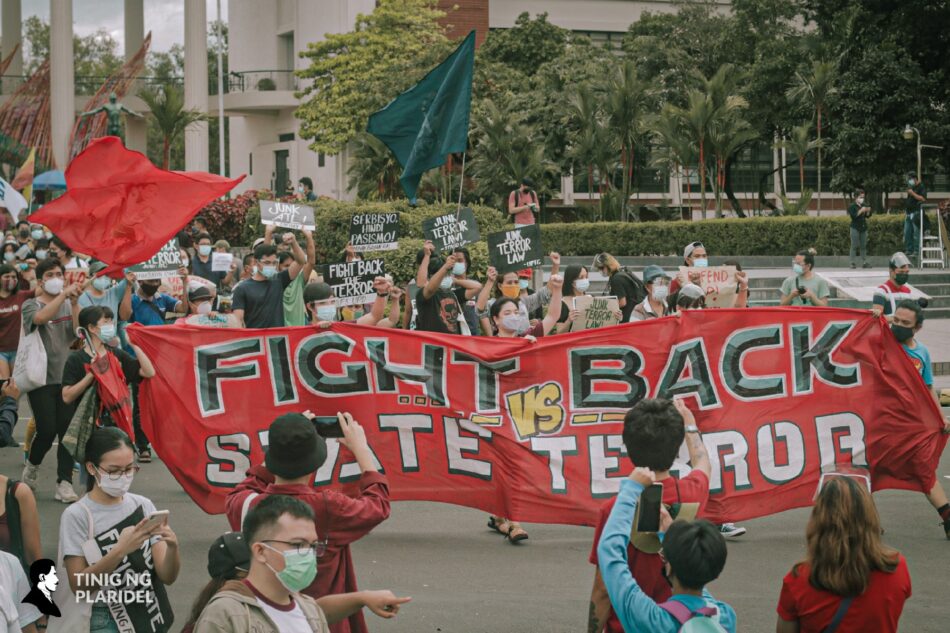 For Mariano, the system never changed. Spending nearly 40 years as a photojournalist made him realize that the photos he captures on the streets today are merely colorized versions of those he took decades ago.
"So patuloy pa rin akong andoon para i-document. Siguro matatahamik lang ako kapag wala na 'yung ganun na mga eksena na makikita sa kalsada o issues na sinisigaw sa kalye," he vows.
Mariano currently contributes to ABS-CBN News. He also works as a freelance photojournalist and one of the official photographers of the Quezon City local government.
As much as the uprising seems like a failure, Tañada asserts that the collective effort of the older generations must not be discounted. She believes that the past revolt contributed to the growing mass movement that will eventually lead to actual systemic change.
"You can't expect that everything would come from [the uprising]. You have to keep the struggle, you have to keep working for social change and not stop," she says. "I don't think they should downgrade the meaning of the event as this was people coming together."
The masses have long been exploited by the system, burdened with worries of surviving each day, and they will no longer tolerate it. It may not be today or sometime soon, but time will come when millions will flood the streets again.
The People Power never ended in 1986. It only progressed into a greater movement to finally cease history from repeating itself. Just as time tells, photos will, too.