Yves, who uses gender-neutral pronouns, feels that they are deprived of childhood joys every time they watch their parents bicker. They felt early on that building a stress-free home was the least of their parents' concerns.
"Bata pa lang kami n'un, feel na feel ko na neglected kami. They don't really supervise us," Yves told TNP, requesting to withhold their real name.
Following their father's infidelity, Yves' parents have lived separately from each other. But they are only one of many, as the latest data from the Philippine Statistics Authority show that one in five married couples live this way.
Despite the large number of separated couples, not one of them can avail the legal remedies of divorce in the country. The Philippines is the only nation where divorce remains illegal, aside from the celibate Vatican City.
But this could change very soon, said Albay Rep. Edcel Lagman, one of the proponents of the divorce bill in the House of Representatives. With his version of the bill up for plenary approval in the House of Representatives, a glimmer of hope emerges for children trapped in families bound by loveless marriages.
For richer or for poorer?
Yves' parents have long slept in separate rooms under the same roof. Even the dining table can't unite their family, as Yves recalls it's been years since they've eaten with both their parents.
The downhill journey of their parents' marriage started seven years ago when their father cheated. The children were left to figure out the complex situation on their own.
"Magbaba-bye na dapat ako kay Papa pero pinalayo ako ni Mama kasi parang sabi niya sa'min is 'Huwag na kayong lumapit sa tatay niyo. Kadiri siya. Dami niyang hinalikang babae, hindi niya deserve 'yung [pagmamahal] niyo,'" they recalled.
Yells and screams fill a normal day for Rita, who asked to withhold her identity. Just like Yves, she has put up with her quarreling parents for as early as she can remember.
For two years, her parents have lived in separate houses to prevent arguments from escalating. Rita, along with her two other siblings, would switch between these two homes every two weeks.
"The sudden change was jarring, to say the least. I hated living in our hometown and I hated being with my father. I had no support system," she lamented. "[Mom] was being selfless, like how a mother usually is. But as she was doing all this work, she was starting to become estranged from my dad," she said.
Sean, who also requested to hide their identity, grew up separated from their father. Sean realized in their teenage years that the cracks in their parents' marriage had existed long before they were born. 
"While my mom grieved after losing a parent, my dad lost patience with her and flew to work somewhere in Visayas. He got back with a high school girlfriend. My mom did not give up on the relationship. They [lived] together when she announced pregnancy," Sean recollects.
Rita, Yves and Sean told TNP that financial problems are a common trigger to their parents' daily conflicts. All three children know that their situation would have been easier if money were the sole reason for their parents' marital spat. But financial problems only festered their deep-rooted lovelessness.
In sickness and in health
For Yves, whose parents still live under the same roof, the COVID-19 pandemic has caged their family in financial troubles. It did not help that their father was forced to resign from work.
"Si Papa lang [kasi] 'yung nagwowork for the whole family. So, nangamba kami. How will we get by?" Yves says.
Still filled with resentment, Yves' mother convinced her husband to find means for the family's survival. While their father was able to set up shop, the pandemic still dealt heavy blows to their family. To Yves, these were mental and emotional struggles.
Even when Yves was taken to the hospital, their parents were unable to make amends. During that time, both their parents developed symptoms for COVID-19.
"The following day, nagpaschedule na rin kami ng [COVID-19] test. Ang lala ng nangyari sa akin noon. Frustrated na frustrated ako na nagkaroon na sila ng symptoms for [COVID-19]. Sinisisi ko talaga 'yun [sa] paglalalabas nila," the 21-year-old said.
Yves was hospitalized due to incessant anxiety attacks, which they said resulted from the stress they carried throughout the pandemic. This is on top of the pent-up anxiety Yves gets from academic work.
"[B]efore the pandemic, 'pag nagpapanic attack ako [ay] meron akong physical outlet. Lalabas ako mag-isa or I'll wander around sa school, or like driving home. Ngayon kasi na pandemic, nasa loob ka lang, bawal lumabas. Dito ka lang sa kwarto," Yves said.
READ: As COVID-19 hits UP students and faculty, learning now 'survival of the fittest'
For better or for worse
"We would be worse off," is how Rita would imagine it if her parents were to endure the loveless marriage.
"I remember them having a private retreat way back," Rita said of the time her parents tried to fix the relationship. "Judging from where we are now, I can only assume that it did not end up well."
While Rita is convinced that her parents are no longer lovers nor friends, she believes that they are doing everything they could to remain civil for their children.
Her parents' separation brought her closer to her mother but has detached her from her siblings who live with their father.
Sean also struggled in making friends with other children their age due to "the brash nature [they] developed."
"I did not learn how to resolve conflicts from my family because I never had a good example until I saw my classmates healthily confront and talk to each other," Sean said.
Sean said that while they were able to remain strong without their father, the severance needed to be on paper too. This started with a legal change in their surname. Eventually, Sean hopes this will end up in a final separation through a divorce.
Having handled over 50 annulment cases, family lawyer Atty. Don Kapunan emphasized the detrimental effects of marital disputes on children.
"Grabe 'yung emotional struggle that children have to go through. They carry that through adulthood. Kahit na magreach na sila ng age of maturity, nandoon pa rin sa sugat," Kapunan said.
'Til death will we part?
The difference between an annulment and a divorce is that an annulment asserts that the marriage registered is null. This would legally mean that there was no marriage from the beginning. Divorce, however, acknowledges the validity of the marriage.
"In divorce, may valid marriage ka and then the state cuts off the marriage," Kapunan added.
The current grounds for annulment include being underage, psychological incapacity, fraud, impotence and mistaken identity.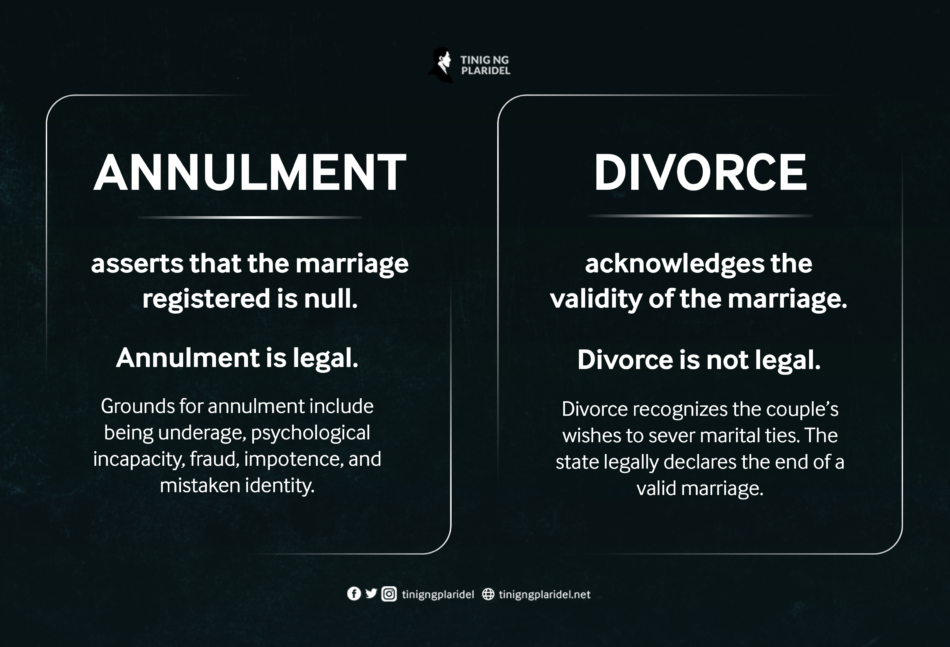 According to a study by the Demographic Research journal of the Max Planck Institute, the most common reasons behind Filipino couples' separation are infidelity, substance abuse, psychiatric disorders and sexual dysfunction. Of these, only the latter two are listed as justifiable reasons for annulment.
While the prospect of their parents' separation pains Yves, they say that they would support their parents' divorce.
"Okay lang sa 'kin [na mag divorce or annulment sila] kasi naglolokohan lang naman tayo, eh," they add. "She's looking out for us pero if it means mental exhaustion, I don't see the point of being together."
The legalization of divorce in the country brings hope for children like Yves, Sean and Rita. While it was approved for plenary reading in the House of Representatives, it still has to go through countless bottlenecks before becoming an accessible option to Filipino couples.
"The influence of the Catholic church is still massive, especially in our Catholic upbringing. Misplaced kasi 'yung mga argument na ginagawa ng mga mambabatas," Kapunan says.
86 percent of Filipinos follow Roman Catholicism, which does not recognize divorce.
Although divorce could be helpful in breaking the shackles of marriage, it still does not save children from the mental and emotional rift they would have to face as broken families.
Separated or not, Kapunan believes that parents should provide not only financial support but also emotional and mental care, especially amid a health crisis.
"…[F]or a child to gain personality, [they] must be brought up in an atmosphere full of love, [with] emotional and psychological support. Without the protection, magiging commonplace na lang ang domestic violence [and] abuse.," Kapunan adds.
When Yves, Sean and Rita see other children in happy and complete families, they are not filled with envy but a bitter sense of "what could have been."
President Duterte has long expressed his disapproval of the divorce bill, saying "the children would be pitiful if there will be divorce." But the three children know the opposite is true.
With the bill making strides in Congress, Yves awaits the day it becomes an available option for their parents. But for now, Yves, along with other children of loveless marriages, will have to endure the daily struggle of a broken family.
"Sorry naman naging bata ako," Yves said.